With this horrendous pandemic, there are books I should avoid. By mistake I opened an absolute page turner with a description of a meal in almost every chapter. Just the kind of book which makes you want to jump into a passing ship and make your way to Sicily. Unfortunately, there is no way I'll be able to do that in the near future. So, please eat a cannoli or torroncini for me if you are in Sicily or nearby. If you are not, you can read the quotes below.
Next to his right hand was a bottle of Corvo white, still corked and sealed.
For the main course, I've prepared alalonga all'agrodolce, and hake in a sauce of anchovies.
'Bring me a generous serving of the hake. Ah, and, while I'm waiting, make me a nice plate of seafood antipasto.' … One whiff was enough to convey the dish's perfection, achieved by the right amount of breadcrumbs and the delicate balance between the anchovies and the whisked egg.
[He] returned with a platter on which there was a bread roll, a sizable slice of caciocavallo cheese, five slices of salami, and a glass of wine.
'For today she's made pasta alla Norma, you know, with fried aubergine and ricotta salata.' … 'And braised beed for the second course.'
[The] old woman immediately ate two cannoli as an appetizer. [He] wasn't too thrilled with the kubba, but the kebabs had a tart, herbal flavour that made them a little more sprightly, or so, at least, he defined them according to his imperfect use of adjectives.
He sat back down at his table, where a pound of mullet awaited him, fried to a delicate crisp.
Inside were some ham sandwiches, bananas, cookies and two cans of Coca-Cola.
On the desk was a parcel wrapped in the paper of the Pipitone pastry shop. He opened it: cannoli, cream puffs, torroncini.
'Excellent, this brusciulini.'
'Got fresh-roasted peanuts here, nice and hot,' the shopkeeper informed him. [He] had him add twenty or so to his coppo, the paper cornet already half-full of chickpeas and pumpkin seeds.
He drew up a rapid, unhappy inventory: as a first course, he could make a little pasta with garlic and oil; as a second course, he could throw something together using sardines in brine, olives, caciocavallo cheese and canned tuna. … The pasta came out overcooked, practically inedible.
While waiting for them to bring him a digestivo of anisette (the double helping of bass was beginning to weight on his stomach) …
In the oven he found a casserole of mullet and potatoes that smelled inviting. He sat down and tasted his first bite: exquisite.
… saute of clams in breadcrumbs, a heaped dish of spaghetti with white clam sauce, a roast turbot with oregano and caramelized lemon, and he topped it all off with a bitter chocolate timbale in orange sauce.
'So, exactly how do you prepare your striped mullet?'
[He] took a good half hour to eat his mullets. … [Afterwards, he] downed a demi-tasse of espresso. … [He] returned with a plate on which was a huge, hard piece of Sicilian cassata ice cream.
The pasta with crab was as graceful as a first-rate ballerina, but the stuffed bass in saffron sauce left him breathless, almost frightened.
So: fish, and, no question, onion, hot pepper, whisked eggs, salt, pepper, breadcrumbs. But two other flavours, hiding under the taste of the butter used in the frying, hadn't yet answered the call. At the second mouthful, he recognized what had escaped him in the first: cumin and coriander. 'Koftas!' he shouted in amazement.
In the fridge he found ten or so olives, three sardines and a bit of Lampsedusan tuna in a small glass jar. On the kitchen table there was some bread wrapped in paper …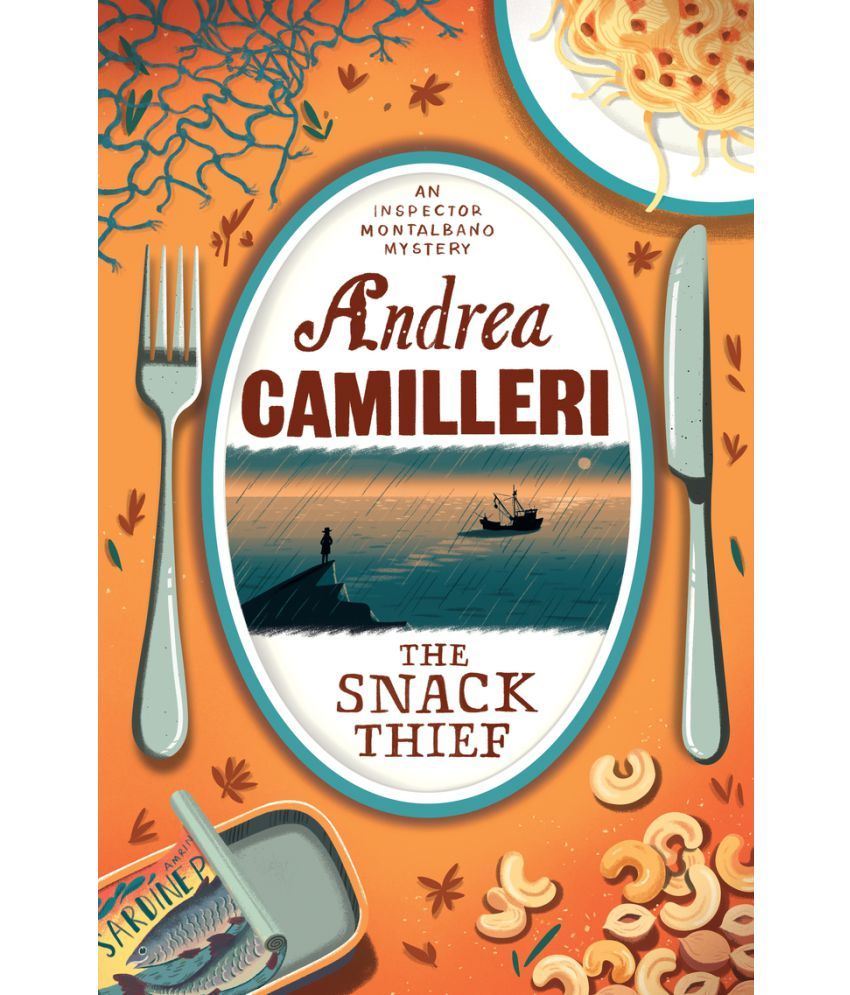 They are all quotes from a single small mystery novel: The Snack Thief (Il ladro di merendine in Italian) by Andrea Camilleri (1925-2017), the third book in his Inspector Montalbano series. I hope I haven't missed any of the meals in this book.